Bel Canto Design, a US-based manufacturer of fine audio electronic components, has been added to the featured brands here at Seattle Hi-Fi. Needless to say, we're very pleased to be an authorized dealer of Bel Canto. As an industry leader of innovative audio systems focused on the importance of digital to analog converters, amplifiers and source components, it's a perfect fit for us – and you. Visit the Bel Canto website for more information and a complete product line up.
Here's what we have in-store:
DAC 3.7 Control Preamp
The DAC3.7 converts your digital media into music for the most direct connection to your amplifier. It provides full system control and is loaded with features including an analog input. This allows you to experience your music through the convenience of a single component, eliminating the need for a preamplifier.
Independent chassis separate power from the focused DAC function, creating a pristine environment to process signal revealing incredible detail and audio resolution. You'll hear deeper into the recording than ever before.
Class Leading 126dB Dynamic Range
24 Bit Volume Control
5 Asynchronous Digital Inputs
ST Fiber
Analog Input
Independent Power Supply
Available in Silver or Black Faceplate
uLink Asynchronous USB Converter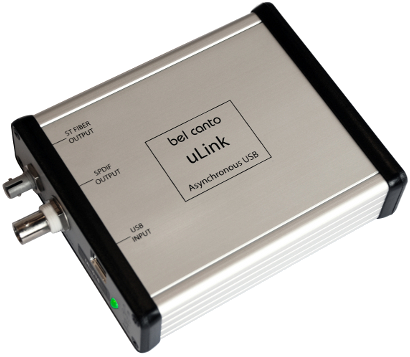 A huge number of audiophiles use computers as a primary music source and want the beyond-CD sound they're capable of. Bel Canto makes it happen with three new Asynchronous USB Link Converters, including the uLink. This new USB Link Converter isolates the music signal from the harsh, noisy electrical environments of computers and music servers.
C5i DAC Integrated Amplifier
The C5i DAC Integrated Amplifier powers it all, digital, analog, computer, and Phono MM all in one cool running compact component. The C5i is built on the convenience of one component connecting your analog and digital source material, providing an uncompromised audio experience. The most complete integrated amplifier, Low jitter, low noise and power isolation delivers startling dynamics in your music.
5 Digital Inputs
Analog In/Line Out
MM Phono Stage
Quality Headphone Ouput
24/96 USB1.1 Input
24 Bit Volume Control
Remote Control
Available in Silver or Black Faceplate
REF600 Mono Amplifier
The REF600M monoblock provides serious power, delivering the pure treble of Class A, the slam of the best Class D architectures, and the mid band presence that brings your music to life.
Max Power Output: 600W 4 ohms, 300W 8 ohms per channel
Peak Output Current: 27 Amps
Balanced Input Impedance: 200 Kohms
Selectable gain option: 27dB or 33dB
Power Trigger